Motorcycle Fairing Repair
Used and Remanufactured Fairings
Plastic Welding & Custom Paint Shop
We Service the Entire Country
** PLEASE HELP US KEEP OUR COSTS DOWN AND YOUR PRICES LOW BY CLICKING ON ONE OF OUR SPONSORS - THEY REALY DO HELP US ALL! JUST CLICK THE LINK - THATS ALL WE ASK - THEY ARE ALL NORMAL PAGES NOT LIKE THOSE ANNOYING HARD TO CLOSE ADS**
Ship us your broken fairings and we'll ship them back to you perfected!
You can now ship your entire motorcycle body to us from anywhere in the US. We can tell you how to organize it so that shipping the entire body will cost you much less than you could have imagined. For example, a complete 1996 Honda VFR 750 including the fuel tank was shipped to our door 1,300 miles from Nebraska for $75. The VFR is a sport-tourer and has a big body; today's ultra-compact sportbikes are much smaller and have more pieces in smaller sizes which fit into much smaller boxes than the typical 6 piece bike of the 90s are early 2000s. We specialize in repair. Repair work is not just a filler between custom jobs for us, it's our forte and we take great pride in our results. After years of crash repairs and being exposed to work by other shops, it has become clear that we work much harder and with more attention to detail than most all other shops. Even with the added cost associated with shipping to MS Re~Cycle, we are far more affordable and we provide better quality over just about all shops. Please see our Shipping page for info on the shipping process.
We Offer Painted & Vinyl Custom Decals
Move Mouse Over Image to Toggle Between Before and After Images
Get a Quote in Minutes Using Text Messaging and Email!
Now, getting a personalized quote could not be easier. This is NOT an automated process. Your text will be received by a qualified appraiser and responded to usually within an hour or less. Just send a text letting us know you require a quote. Then, simultaneously send an e-mail to: repairs@msrecycle.com. Make sure you include pictures of the damaged areas and pictures of the desired color / paint scheme if you have them. Make sure to show ALL damage. If we receive the fairings and there is more damage than what we had originally appraised then the estimate will have to be revisited and this will likely require an additional charge to meet the updated deposit requirements. You can check out our prices and estimates page for more complete info on pricing.
Plastic and Tank Repair
(Mouse over the below image to see before and after)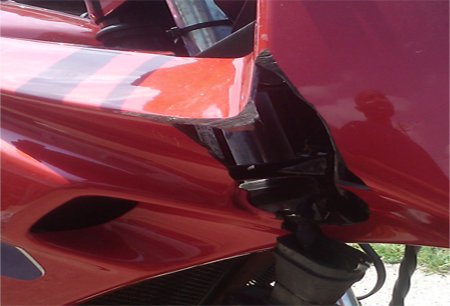 Our welds are guaranteed not to fail under normal conditions. We will repair and repaint any failures at our cost. On the finished side of the fairing there will be no visible signs that any repair work was ever done. On the inside of the fairing, you will be able to see the weld bead itself. While we could sand these down and remove them all-together, that is not something we like to do as the bead adds strength. It is possible to hide the welds with plastic fillers so that there is no evidence of any repair. This is not standard practice and does require an additional fee depending on the total area in need of repair.
We can repair just about any kind of damage to any motorcycle body. We can seamlessly join multiple broken fairings to make one good unit. We can fabricate missing pieces (voids) even if they are large or comprised of complicated shapes. We can straighten fuel tanks by using stud guns also known as resistance weld studs. These produce no holes which later need to be welded/filled resulting in a possible leak.
We can also use these same skills to customize the style and shape of your sportbike body. We can stretch fairings to match your stretched bike - or shorten fairings for lowered bikes, we can create cooling ducts or shave existing ones. We can exaggerate peaks or shave them down. We can add metal mesh screening in the color of your choice to protect open vents or ducts from foreign objects. We can do just about anything to a tank or a fairing - period; moreover, we can do just about anything you need done when it comes to body - period. For complete details on pricing and estimates please see the Pricing & Estimates Page.
Single fairings with 2 or less paint colors (not including decal colors) range from $120 to $275 depending on what fairing it is and the complexity of shape and scheme. Single color jobs for an entire bike including repairs typically start at $650 to $700. From there prices rise for multiple colors or heavy damage. Decals can be added at a very reasonable cost. At this time we can only produce single color vinyl decals. However it is possible to combine decals to make multiple color stickers. Multiple color painted decals are always an option. Custom options are essentially limitless and are priced on an individual basis for both paint and stickers. A Custom sticker can be had for as low as $20 - For example your name in the Manufacturer's font.
Our finishes range in quality from "Factory" to "Glass". Factory is our standard finish quality and mimics most manufacturer's paint finish quality. "Glass" is as close to faultless as one can get with out performing additional paint processes typically done on show quality finishes. "Show" quality is several layers of clear + wet sanding + several more layers which are then polished to the highest possible level. Glass and Show quality finishes require an additional labor charge and in the case of Show, an additional materials charge. Quotes for Glass and Show quality finishes are provided on a request only basis. Email us for pricing and questions: repairs@msrecycle.com

Example "Glass Finish" Quality